Find out how long it would take you to earn the same amount as some of Britain's richest people saw their fortunes grow by last year.  We used figures published in the Sunday Times Rich List 2015 to come up with our fun calculator.
The Rich List is updated each year and you now need a personal fortune of at least £100 million to make into the top 1,000. This year the wealthiest 1,000 individuals and families now have a combined fortune of  £547.126 billion which has more than doubled over the last ten years.
Our calculator is being upgraded, please check back soon!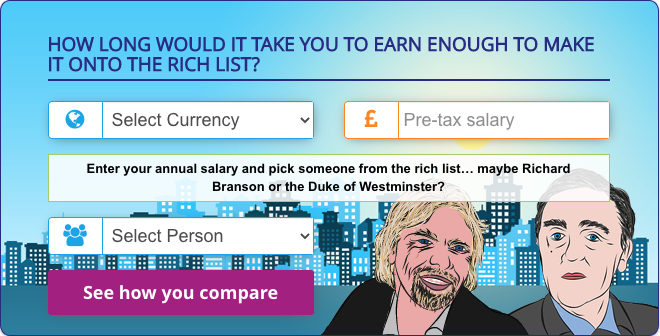 Our Plans
All our packages are fully customisable and we offer a fixed price monthly payment schedule - no surprises! This gives you certainty and allows you to spread the cost across the year.
Essential
From
£75
Per month*
Our essential package is suited to all businesses who are looking to ensure compliance with reporting requirements.
Professional
From
£300
Per month*
Take away the burden of managing finances and start focusing more on your business by investing in our professional package
Ultimate
From
£750
Per month*
Completely outsource your accounts whilst still maintaining a close eye on company performance with our ultimate package
* Fees vary depending on the size and need of the client business. Packages can be tailored so please contact us to discuss your requirements.