Our directors have over 60 years of combined experience in the franchise industry and as British Franchise Association affiliated accountants we have a thorough understanding and knowledge of the principles of franchising. Having provided our services to more than 70 different franchise brands we are able to provide help and support to franchise businesses with a balanced mix of technical and commercial advice.
From our network of offices we can offer a local and personal service to our franchise accounting clients. This personal service is further enhanced through the use of various cloud based accounting systems, which enable us to offer a partial or fully online service. We work with franchisees as well as franchisors to develop accounting systems that both can benefit from.
As a nominated or preferred provider of accountancy services for a franchise network we work with the franchisor to gain a fully detailed understanding of the business and in turn this gives the franchisees confidence that we understand their business. We can provide a tailored solution for Franchisors to offer to their networks. Where numbers permit we can enhance our reports and add value by including benchmarking allowing franchisees to compare their performance with their colleagues.
Our management and benchmarking reports can also be of great benefit to Franchisors. By ensuring the franchisees' financial reports and information are produced accurately, in a timely manner and in exactly the same format and layout, Franchisors can easily review their franchisees' performance and provide even more support to their network. We can work alongside the Franchisor's support team providing them with useful accounting and key performance indicators to assist them in their role.  Furthermore we have experience of carrying out mini audits or compliance visits on behalf of franchisors to ensure that franchisees are maintaining suitable records and are reporting correct information and consequently paying the right amount of franchise fees.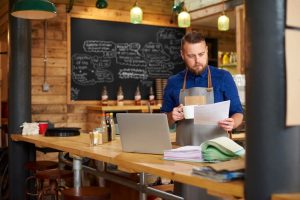 WHY USE US FOR FRANCHISE ACCOUNTING?
Someone considering a franchise
Advice on the contractual requirements for your accounting records
Advice on how best to structure your business
Help preparing the financials and cash flow forecast to support your business plan
A new franchisee
Company formation (if applicable)
Advice on VAT schemes and help with the registration process
Other registrations with HM Revenue & Customs
All franchisees
Review of existing position and arrangements to ascertain if any immediate changes can be made to improve things, such as changing VAT schemes
A full bookkeeping and management accounts package tailored to suit your needs and budget. We can do everything or work with you whatever works best for you
Benchmarking your results against the rest of the network (where we act for a number of franchisees)
Payroll
VAT
Credit control
Year End Accounts and Taxation
Registered office and company secretarial services
Franchisors
Financial management training and set-up for franchisees
Consistent and uniform accounting processes and reports
Regular updates on individual and network performance
Benchmarking of franchisees
Independent compliance reviews
Help with your own franchise accounting requirements
We are here to help and let you focus on your business rather than getting bogged down with financial administration which is what we are good at. With a local service backed up with national support we are well placed to help you be successful.
For a no obligation chat to discuss how we could make a difference with our franchise accounting service please call 0800 470 4820 or email info@tfmcentre.co.uk.
Franchise Resources
How can we help?

Unlimited Accountancy Support
Get access to support whenever you need it with our unlimited accountancy support service.

Dedicated Team Of Client Managers
All our clients have access to experienced client managers that are dedicated to making sure your businesses accounts are managed as efficiently as possible.