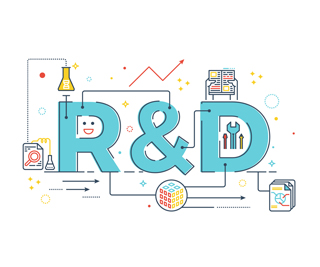 Research and Development tax credits are an incentive from the government that provides tax relief to UK businesses who choose to invest in industry innovation. The aim is to encourage growth, diversity and new ideologies within the UK market. HMRC suggest that R&D tax credits equate to around 33 pence for each pound invested in relevant qualifying costs – making R&D tax credits well worth consideration.
Figures released by HMRC, based on R&D tax credit claims from 2014/15, highlight some interesting points:
Since the introduction of R&D tax credits, over 140,000 claims have been made. This works out as an impressive £14 billion tax relief being claimed by qualifying UK companies.
It appears many businesses are overlooking the benefits that R&D tax credits offer. Whilst increasing numbers of small and medium sized enterprises are claiming R&D tax credits, this figure is still notably small at around 22,000. We recommend that all SMEs take the time to see if they are eligible to claim for R&D tax relief.
Large companies (employing over 500 staff, turning over more than 100 million or with a balance sheet of more than 86 million) have to apply through the RDEC initiative. Whilst similar to the route taken by SMEs, RDEC differs in how HMRC calculate relief. Figures indicate that over 9,000 large companies have embraced the RDEC scheme since its introduction.
Unsurprisingly, R&D claims appear to be more prevalent in certain sectors. Manufacturing, Information & Communication and Professional, Scientific & Technical are the three areas leading the way with the most claims for tax relief.
If you want to know more about how R&D tax credits could benefit your business, contact us.