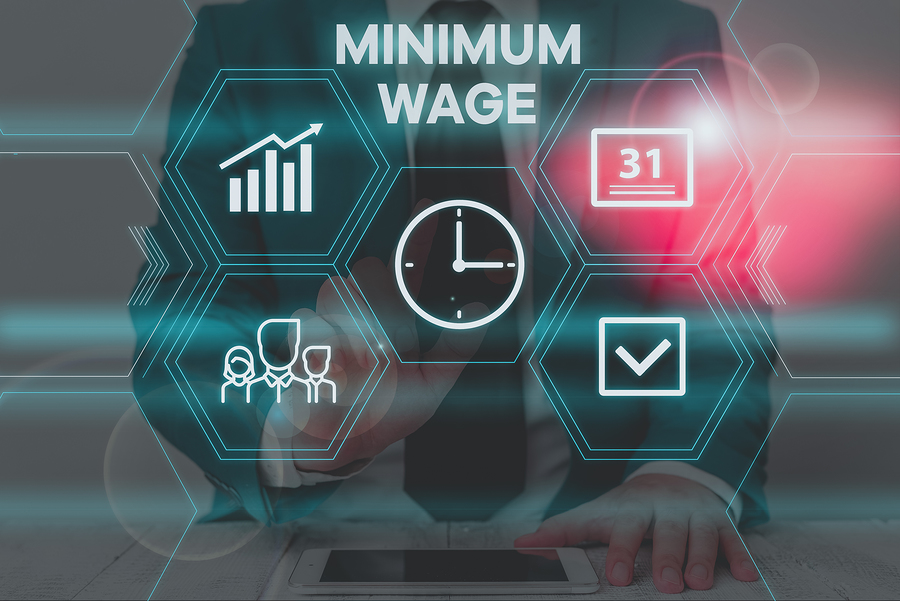 In a move that the government is calling "the biggest cash increase ever", the National Minimum Wage is set to increase by 6.2% from April. This rise is more than four times the rate of inflation and means that hourly pay for people over 25 will rise to £8.72.
On top of this, more than 210,000 people working for around 6,000 real Living Wage employers look set to see their hourly wages rise to £9.30 across the UK, and £10.75 in London. In basic terms, this means that someone working full time and paid the £9.30 real Living Wage will receive more than £2,000 in additional wages in comparison with the current government minimum. A London worker will receive an extra £5,000 per year.
The National Minimum Wage was introduced by Labour 20 years ago, in an effort to boost the wages of the lowest-paid workers and even the playing field for people across all of society. At the time there were critics holding firm that the move would cause mass unemployment, but these fears were proved to be unfounded and the legislation was a success, cutting the number of people officially defined as being low paid and reducing income inequality.
However, whilst those on minimum wage earn, on average, 13% more than they did in 2008, the number of working households in poverty has been climbing again. According to research by KPMG, taking into account inflation, the average worker's pay still buys less in real terms than it did 11 years ago.
The Living Wage Foundation
The Living Wage Foundation works to ensure that workers all over the UK are getting paid an actual living wage, calling on major employers to tackle the issue of low pay by committing to pay a wage which is in line with the actual cost of living.
In 2016, new initiatives and a rebranding of the National Living Wage was introduced to boost the incomes of people over 25, and in September, the government agreed that a higher minimum should be introduced for workers over 21, thanks to recommendations from the Low Pay Commission.
A record 1,500 more employers have signed up to be accredited with the Living Wage Foundation in the past year, including a number of major companies that include Hiscox, Crystal Palace Football Club, Welsh Water, London City Airport and Newcastle University.
Living Wage Foundation Director, Katherine Chapman, said:?
"In this time of uncertainty today's new Living Wage rates give a boost to hundreds of thousands of UK workers. Good businesses know that the real Living Wage means happier, healthier and more motivated workers, and that providing workers with financial security is not only the right thing to do, but has real business benefits.
"This year for the first-time cities and towns have announced big plans to grow the number of Living Wage Employers in their communities. We are delighted at the ambition of Cardiff and Salford to build Living Wage cities, with Cardiff planning to double the number of workers getting the real Living Wage to nearly 50,000, freeing many more families from the low pay trap. We hope to see many more towns and cities follow suit."
However, with 5.2 million jobs paying less than the real Living Wage, there is still some way to go for the charity to see its long term goals achieved.
What Are The New Rates?
As of April 2020, the new rates are:
The National Living Wage for ages 25 and above – up 6.2% to £8.72
The National Minimum Wage for 21 to 24-year-olds – up 6.5% to £8.20
For 18 to 20-year-olds – up 4.9% to £6.45
For under-18s – up 4.6% to £4.55
For apprentices – up 6.4% to £4.15
These rates have been calculated according to what independent reviews have stated that people need to live on. London and UK rates are up by 20p and 30p respectively due to a number of reasons, with the escalating private rental and childcare costs across the UK reported as major factors.
What Issues Are Reported?
Whilst the move hasn't taken place yet and thus the success of the wage increase is yet to be measures, there are a number of critics concerned that wage increases will affect business.
The Federation of Small Businesses (FSB) worries that firms may be required to recruit fewer people or even consider redundancies to make ends meet once the changes come into force.
Craig Beaumont, FSB Director of External Affairs and Advocacy said:
"There's always a danger of being self-defeating in this space,
"Wage increases aren't much good to workers if prices rise, jobs are lost and there's no impact on productivity because employers are forced to cut back on investing in tech, training and equipment."
Mr. Beaumont also suggests that smaller firms will struggle, thanks to a 1.7% increase in business rates set to occur in April next year. There will be further wage increases over the coming years, as the government has promised to forge ahead with plans to increase the national living wage for workers over 21 to £10.50 an hour by 2024.
However, for most people, this comes as welcome news that should offer those in the lowest-paid roles some hope for the future. It is hoped that more companies will continue to sign on for Living Wage accreditation, as a more profitable society shakes up the economy as a whole.
Justin Welby, The Archbishop of Canterbury, agrees that this move offers a positive and hopeful future for society, saying:
"With thousands of employers now accredited by the Living Wage Foundation, it's no longer just a campaign: it's a movement that is transforming lives. With our presence in every community around the country, I'm delighted that the Church of England is part of this exciting and essential effort to ensure every person can have, in the words of Jesus, "life in all its fullness"."
Conclusion
For businesses now is the time to prepare for the wage increases. Reviewing employee contracts and ensuring you know how to update your payroll system should be top of the priority list.
The team at TFMC are available to discuss your current arrangements, and how we could help you create a more cost effective and lower maintenance payroll system that fits the need of your business.
Please contact us on 0800 470 4820 or email info@tfmcentre.co.uk to find out more.