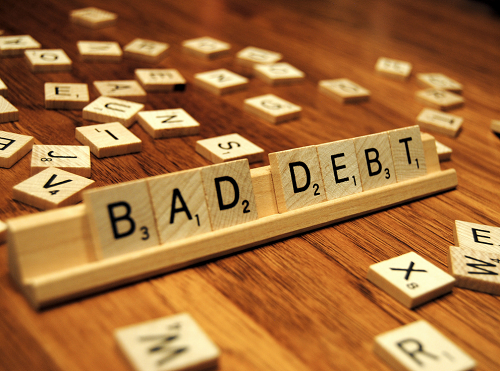 In this post we provide nine useful tips aiming to help businesses avoid incurring bad debts.
Bad debts refer to sales invoices you are statistically unlikely to receive payment for. Bad debts are capable of damaging your business. Bad debts have even brought otherwise profitable business to an early end. HMRC reports that bad debts cost the Treasury around £16 billion during 2014-15. It is vital you reduce your exposure to bad debt at all costs.
Read the below tips carefully. These should help you significantly reduce the risk of exposing your business to bad debts. If you require further information make sure you contact your local The Financial Management Centre by clicking here.
Below we outline nine tips for avoiding bad debts:
#1. Make use of online credit checks
Carry out an inexpensive online credit check against new customers. This check tells you how liquid your prospective customer really is. Experian or Equifax both offer a credit check for around £10. Many suppliers pass this cost onto their customers when a new trade account is created. When the credit check reveals adverse entries, consider restricting the supply of credit until the customer has built up a record of on-time payments.
#2. Do not offer new customers credit
You may be best enforcing a policy preventing your staff from offering new customers credit until a solid track record of payment is built up. Many modern point-of-sale systems automate a threshold customers must build up until credit becomes available.
#3. Do not hesitate to remove credit for consistent late payers
Likewise if an established customer consistently struggles to pay his or her invoices on time then do not hesitate to remove credit availability from the trade account concerned. Any damage to your existing business relationship with this person is likely offset by the benefit of avoiding future bad debts.
#4. Ask for trade references
A credit check may miss vital information on new customers' prior trading behaviour. Cover all bases by asking for trade references too. In fact request a minimum of three credible and unbiased trade references.
#5. Insert a Romalpa Clause into your sales contract
A Romalpa Clause is also known as a 'retention of title' clause. This clause prevents the legal title to goods from transferring until the invoice is paid in full. You thus retain a legal right to seize goods not yet paid for. This clause is particularly attractive if your customer later enters receivership. A Romalpa clause means you will not be considered a mere 'unsecured creditor'.
#6. Insist on a director's personal guarantee if credit is offered
A director's Personal Guarantee (PG) prevents a director from hiding behind the limited liability protection a company otherwise affords. Directors are unlikely to agree to a PG and so this should only be sought in circumstances where payment of your invoice is in doubt. If a director later defaults on payment and a valid PG is in force, your solicitors may then pursue the director's personal assets in order to recovery the amount due.
#7. Automate debt chasing
Most modern bookkeeping systems offer an automated debt collecting solution. When the period for payment has expired your bookkeeping software will automatically prompt you to call or send your customer a letter chasing the debt in question. Automating debt chasing ensures you do not neglect this important task. Generally the longer a debt remains outstanding, the harder it will be to collect. Alternatively consider outsourcing this task to a professional credit control company.
#8. Retain the services of a solicitor
A solicitor's letter may be enough to prompt immediate payment of the debt in question. Your solicitor may need to send several letters before your debtor caves into the pressure. Your solicitor may also petition for the debtor's bankruptcy or liquidation where the debt is more than £750. Often the threat of such a petition is all that is required to prompt repayment.
#9. Draw up solid terms and conditions
Have your solicitor draw up your terms and conditions of sale. Highlight your 'common law' right to interest on unpaid invoices.
About The Financial Management Centre
The Financial Management Centre offers a credit control service designed to reduce your risk of mounting up bad debts. Ensure you do not get stung by bad debts by contacting your local office today.