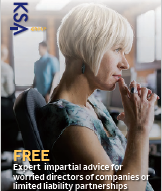 The Financial Management Centre have contributed to a business guide, written by the KSA Group, for 'worried directors'. The FREE guide offers impartial advice on business growth planning, financial planning and management, office/premises, marketing and technology to name a few. Our contribution was of course in the financial planning and tax sections of the guide.
The aim of the guide is to address director concerns but could be very helpful for new business start-ups and first-time directors. The advice also covers difficult topics such as warning signs, personal liability, administration and liquidation. KSA offer a FREE "Directors tool kit" that could come in useful.
You can download the guide below but if you have any financial concerns or would like any help with bookkeeping, accountancy or tax returns please contact us on 0333 202 7198 or complete our contact form.