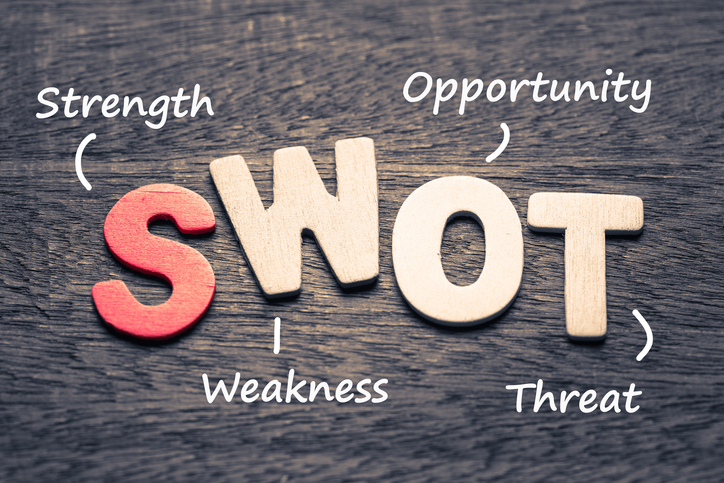 A SWOT analysis is a very powerful business tool you can use to help you develop your company strategy through a deeper understanding of your organisation as a whole and its relationship to customers and suppliers and how well-positioned you are to see off competitor threats. But what does it stand for? SWOT stands for: Strengths, Weaknesses, Opportunities and Threats.
But how can you properly use this simple, yet effective tool into your business? In this article, we guide you through everything that you need to know before, during and after completing a SWOT analysis.
Do you need to do a SWOT analysis?
If you want to complete an effective and successful SWOT analysis, then you should ensure that company leaders and founders are involved in every step of the process. However, the task of completing a SWOT analysis shouldn't be solely left as the responsibility of company higher-ups.
You should involve a diverse range of staff members to take part in the analysis. By doing this, you are more likely to build an effective analysis because different colleagues will give you different perspectives on the company. For example, you should ask someone from the sales, marketing and customer service team to take part in creating the SWOT analysis.
Companies aiming to be especially innovative often look outside of their own business when preparing to run a SWOT analysis. You can get your customers involved by asking them about their opinion on your business.
Although customers are an external entity to your business, they play a significant part to the smooth running of your organisation so adding their unique voice to the creation of your SWOT analysis often pays off.
Alternatively, if you're a company is a start-up or if you're the only person running your business, you could still greatly benefit from performing a SWOT analysis. Your network of past colleagues, accountant, suppliers and even your friends can provide valuable viewpoints if they know even a little about your business.
Your company SWOT analysis doesn't have to be performed by a team of experts – all you need is a range of different points of view to get you started.
How do you complete a SWOT analysis the right way?
You should start by gathering your selected team and give them a voice whether they be a trusted friend or a partner in your business.
This meeting shouldn't be too difficult to arrange around everyone's schedules as it should only take about an hour or two to fully complete your analysis.
This meeting should be similar to a brainstorming session in the sense that every participant is given enough time to formulate their own ideas and then has a chance to express them. To hold an effective meeting, we suggest that you utilise sticky notes.
Every member in the meeting could write down their opinions about the business all of which will be then stuck up on the wall to discuss.
Questions you need to ask when building your SWOT analysis
To build a great SWOT analysis, here are some examples of the types of questions you should ask in your meeting:
What physical assets do we have, such as customers, equipment, cash and technology?
Are there any gaps in our team?
Is the location of our business ideal?
What competitive advantage do we have over our competition?
Is our market growing and what trends are in it?
Could future developments in technology change your business?
What do our customers think about us?
What do you need next?
After completing your SWOT analysis, you should convert all your new ideas into a real strategy. But what can you do if the changes that you need to make require help from a professional?
Get help from an accountant
If your SWOT analysis has highlighted a cash flow issue or if it has outlined that your business needs restructuring, our team of accountants can help you.
At The Financial Management Centre, we've helped so many business's resolve issues that could have easily threatened the entire nature of their organisation – and we can help you too.
Contact The Financial Management Centre on 0800 470 4820 or email us at info@tfmcentre.co.uk.