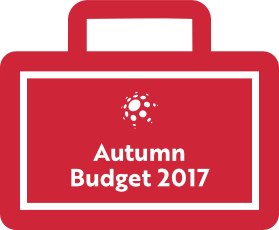 Philip Hammond has delivered the 2017 Autumn Budget. The Chancellor has been under pressure, both financially and politically, as the UK faces economic uncertainty amid Brexit negotiations.
We have listed some of the key highlights of today's (22/11/2017) budget:
KEY HIGHLIGHTS
Taxation – The tax-free personal allowance on income tax is to rise to £11,850 in April 2018, with the higher rate threshold to increase to £46,350
Tax Avoidance – New measures to be introduced to raise £4.8 Billion by 2023
VAT – VAT threshold for small businesses to remain at £85,000 for the next two years
National Living Wage – To rise to £7.83 per hour in April 2018 – an increase of 4.4% from £7.50
Welfare – £1.5 Billion package to address concerns about the delivery of universal credit
Stamp Duty & Housing – Stamp duty is to be abolished for first-time buyers for properties valued up to £300,000
Brexit – £3 Billion set aside for Brexit preparations
Fuel – The car fuel duty rise, for petrol and diesel, planned for April 2018 has been scrapped
Alcohol – Duty on beer, wine spirits and certain ciders will be frozen. Duty on high ABV ciders will be increased via new legislation
Tobacco – The intended 2% rise above Retail Price Index will continue
R&D – £2.3 Billion allocated for Research and Development investment
Digital Infrastructure – £500 Million for new 5G mobile networks, fibre broadband and AI
Health & Social – £2.8 Billion in additional funding for the NHS in England
Education – £40 Million teacher training fund for underperforming schools in England
Electric Cars – £400 Million for charging infrastructure
Grenfell Tower – £28 Million for local regeneration and mental health services in the Chelsea and Kensington councils
Rail – 4.5 Million people aged between 26 and 30 to get a third off fares
Air Travel – Increase on air duty for premium class tickets
For a detailed summary have a look at the "Budget Pack" section of the TFMC App. If you haven't downloaded it yet just search TFMC in the Apple iStore or Google Play Store.