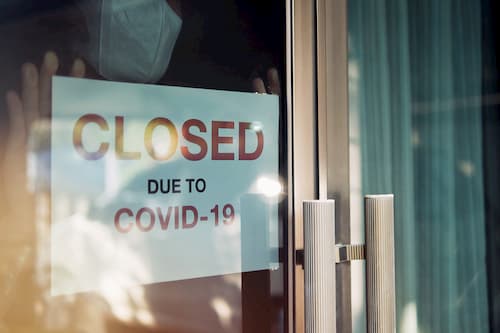 Unfortunately, the direct effects of COVID-19 are still placing great pressures on the UK economy, with a focus on small businesses. As small businesses are the backbone of our nation, the Chancellor, Rishi Sunak has announced a new stream of financial support, known as the Government Bounce Back Loan Scheme.
Although a large proportion of financial assistance has already been offered and is still accessible, some businesses have fallen through the gaps, while others have waited a substantial period of time to access funds. Through this new scheme, small and medium sized businesses can access financial support, helping them bounce back and rebuild their businesses, efficiently.
With the opportunity to borrow between £2,000 and £50,000, with a 100% government-backed guarantee, here's all you need to know about the new Bounce Back Loans Scheme.
What is the Government Bounce Back LOAN Scheme?
Announced earlier this week, the Bounce Back Loans Scheme is a 100% government-backed loan, offered to small businesses across the UK. The scheme is designed with small companies in mind, helping those who have lost or who are still losing revenue due to COVID-19. It is available to small and medium sized businesses across the majority of industries, offering a helping hand at this unprecedented and difficult time. It is intended to future-proof jobs and services.
Preliminary opening until 4th November 2020, the scheme is available in conjunction with accredited lenders, with a guaranteed quick turn-around timescale in place. The government has also agreed upon low interest rates of 2.5%, ensuring that loans are available and affordable for the majority of businesses.
As the Chancellor has identified, a careful but efficient recovery will be required for the economy. Small and micro companies will be the key driving forces to help rebuild the UK, through both the upcoming recovery phases and the post COVID-19 world. With the aim to ensure that companies can withstand this pandemic, while continuing to grow and offer new jobs, up to 25% of annual turnovers can be borrowed.
Anything between £2,000 and £50,000 can be borrowed, over a 6-year payback term. To maximise security and effectiveness, the government will pay all interest over the first 12-months while deferring repayments, followed by a 2.5% interest rate for the following 5 years.
If you're looking for additional financial support, see if you're eligible for the Government Bounce Back Loans Scheme below.
Eligibility for the Bounce Back Loans Scheme
There are a number of different sources of financial aid available through this pandemic. Yet, many businesses are unsure which source will benefit their business best, based on suitability and repayment abilities.
To be eligible for the new Bounce Back Loans Scheme, companies must prove that:
They are a UK based company, registered as a limited company or partnership
Their company was active on 1st March 2020.
Their company has been adversely affected directly by COVID-19, no matter the reason.
50% of general income is from trading activity.
The loan will be used to rebuild the business and help the economy restart, avoiding all personal benefits.
The company wasn't categorised as 'undertaking in difficulty' on 31st December 2019 – meaning that losses are greater than profits, making it difficult to repay loans.
The company isn't classified as bankrupted or in the process of liquidation.
It's also important to note, that in most cases, for companies who have utilised support through the Coronavirus Business Interruption Loan Scheme, eligibility may not be present. Ineligible sectors will also include state-funded and public sector services including banks, insurance companies and schools, along with those registered as self-employed.
Alternative financial support may be available, offering greater value for your company through this pandemic.
How can I apply for this scheme?
If you're hoping to benefit from the Bounce Back Scheme, you can apply by firstly searching through a list of recommended lenders, available on The British Business Bank website. From here, the completion of a short online application form will be required, self-certifying eligibility.
As there are a number of criterions to consider, along with lenders, working with chartered accountants will be beneficial.
If you're eligible for this scheme, your application will be accepted, offering efficient financial aid for your business.
Key takeaways of the Bounce Back Scheme
Here at The Financial Management Centre, we're aware that there's a lot of information floating around regarding COVID-19 news and the available support for businesses. To help condense this information, here are the key takeaways to consider when applying for the Bounce Back Loans Scheme:
25% of annual turnover can be retrieved for eligible companies.
Anything between £2,000 – £50,000 is available.
Loans will last over 6 years, where repayments will be deferred for the first 12 months.
Interest rates will not apply over the first 12 months yet will lock-in at 2.5% for the impending 5 years.
Applications can be made online from 4th May 2020 and are initially available until 4th November 2020.
No personal guarantees are in place, meaning that personal property cannot be repossessed if loans aren't repaid.
The borrowing company is 100% liable for repaying the loan.
The borrowing company must be honest when self-certifying eligibility.
There are no additional fees for early repayments.
Interest rates will remain the same across the board, no matter the lender.
The scheme will offer an efficient source of funding to future-proof companies and jobs.
The scheme is in place to help those companies suffering, while restarting and strengthening the UK economy.
Offering the opportunity to restart and bounce back from the adverse effects of the pandemic, this scheme is now available, up until the preliminary date of 4th November 2020. To ensure that this is the most suitable stream of financial assistance for your company, we can help you here at The Financial Management Centre. Additionally, we can assist you with the application process, ensuring that everything is in place to receive an efficient turnaround.
If you have any further questions regarding the Government Bounce Back Scheme, feel free to get in touch.