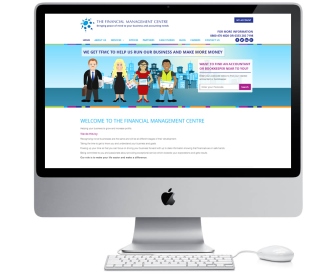 Crawley, West Sussex. 15.01.2015. The Financial Management Centre today announced the launch of its new website. The launch cumulates over six months planning and many hours of hard work on behalf of all our staff throughout the United Kingdom. Investment in the Financial Management Centre's online presence reflects the general positive mood towards immediate economic growth throughout the Country, something the Centre has and continues to work tirelessly to facilitate through the provision of financial management services for thousands of SMEs.
The website integrates a number of new web technologies aimed at improving user experience. The below screenshot illustrates the site's postcode lookup feature. The feature is integrated into the home page whereby users are invited to enter their post code:
Once the user has entered a valid UK post code they will be redirected to the webpage containing branch details of their local Financial Management Centre:
The website offers a free report offering valuable guidance on the factors which businesses are advised to consider when choosing an accountant or bookkeeper. Users can download the report from the home page:
About the Financial Management Centre
Formed in 2007, the Financial Management Centre takes care of the financial management burden facing thousands of SMEs throughout the United Kingdom, including start-ups. The Centre consists of a large network of accountants and bookkeepers, ensuring advice matches local conditions our customers must operate within.
Services on offer include:
If you are a SME operating within the United Kingdom click here to find your nearest office.